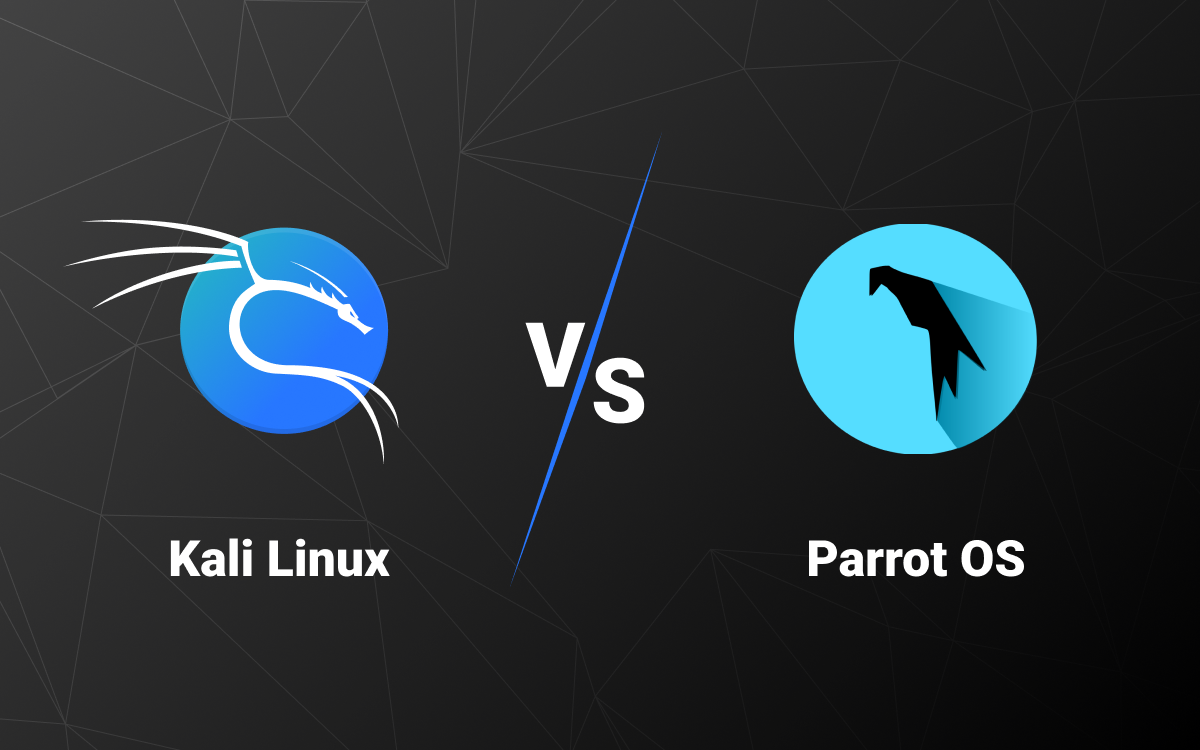 25 Jun

Kali Linux VS Parrot OS: How to choose the Best?

Linux is a well-known operating system that is known to many developers and security hackers. Many Linux distributions in the market are flexible based on the workflow if you are a hacker, bug bounty hunter, penetration tester, or security researcher.

Linux has a diverse set of distributions that are accessible in the market, but the most famous among the distributions is the Kali Linux operating system.

Kali Linux and Parrot OS are among the operating system favoured ethical hackers and penetration testers to carry out testing and ethical hacking.

This article will compare both Kali Linux and Parrot OS features and choose the best based on preferences and features. Gaining expertise in either of these systems will help you become certified cybersecurity professional.
What is Kali Linux?
Kali Linux developed and maintained by offensive security, a leading information security training company, is Debian based Linux distribution system primarily used for advanced security penetration testing and auditing. Kali has Linux kernel as its core, as the name suggests.
Debian-based system means that the code repositories in Kali adhere to Debian development standards. Kali holds more than 600 pre-installed tools which help or aid in various security tasks such as web application testing, penetration testing, computer forensics, security research, and reverse engineering.
Kali Linux is a complete top to bottom rebuild of Backtrack Linux distribution and was released in 2013.
Features of Kali Linux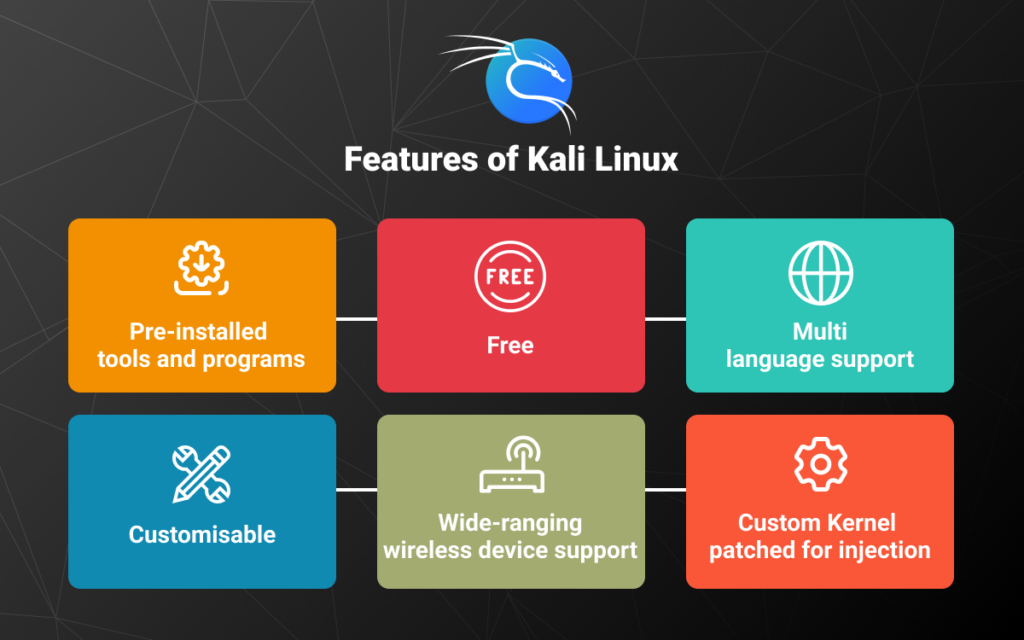 Pre-installed tools and programs: Kali has more than 600 pre-installed tools used for penetration testing. Since it is a rebuild of the BackTrack system, it eliminated several tools that did not work or carried out the same function that other simple tools provided.
Free: It is an open-source operating system that is free to utilise.
Multi-language support: Although the majority of the penetration tools are available in English, Kali, with its multi-language assistance, provides users to perform or operate the system in the language they are comfortable in.
Customisable: Kali Linux is easily customisable and can be customised all the way down to its kernel.
Wide-ranging wireless device support: One feature that makes Kali stand out is its support for a wide range of wireless interfaces. Kali supports many wireless devices with different hardware configuration and is compatible with numerous USB and wireless devices.
Custom Kernel patched for injection: penetration testers quite often need to carry out wireless testing and evaluations. That is why the kernel has the latest injection patches to carry out wireless assessments.
Read Also: Popular Penetration Testing Tools
What is Parrot OS?
Parrot OS is a free open-source GNU/Linux-based operating system that is Debian-based and primarily developed for security experts, developers and privacy preferring crowd.
Like Kali Linux, Parrot OS possesses a full portable arsenal for IT security and digital forensic operations. Parrot OS also includes tools that you need to develop your own programs and protect your privacy.
Along with the transferable tools parrot, OS also consists of hundreds of pre-installed tools that help in penetration testing and security auditing.
Features of Parrot OS: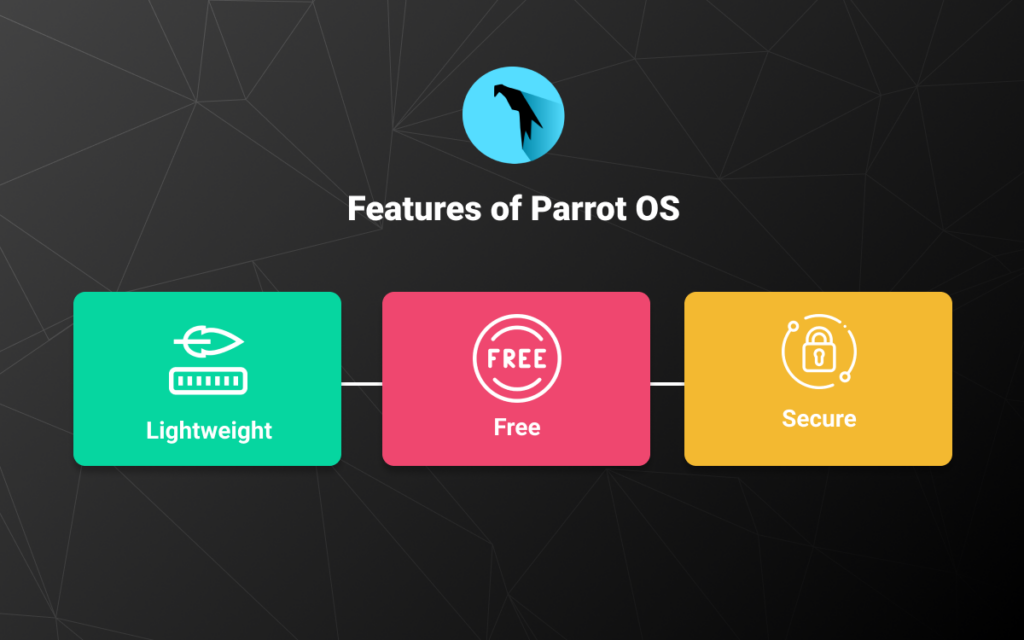 Free: Since it is an open-source distribution system, you can customise and utilise the source codes as per your needs to develop a program.
Lightweight: The Parrot OS runs efficiently and smoothly on old devices which are not high-end and have limited resources.
Secure: Parrot OS is wholly sandboxed with update patches which are frequently released to counter threats and are very secure.
Kali Linux vs Parrot OS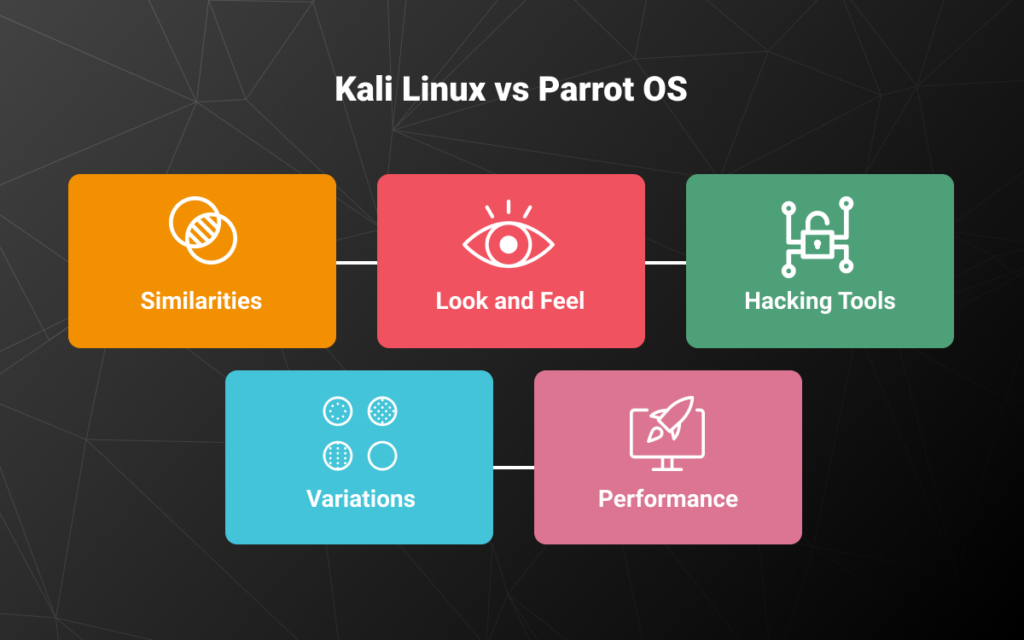 Kali Linux and Parrot OS are both Linux based operating systems and have the same purpose, i.e., penetration testing, cybersecurity, and security auditing.
The preference of Parrot OS via kali or vice versa is subjective and entirely depends on the user. Before we further go into the comparisons, let us look at some similarities.
Read Also: Guide to Penetration Testing
Similarities:
Both the operating systems are geared for penetration testing.
Both support 32 bit and 64-bit architecture.
Kali and Parrot both operating systems support cloud VPN.
Both adhere to Debian's standards of development.
Both are equipped with pre-installed tools and programs for standard hacking.
Kali and Parrot both operating systems support embedded and IoT devices.
Now let us see the differences between the two operating systems.
Hardware Requirements
| | |
| --- | --- |
| Parrot OS | Kali Linux |
| No graphical acceleration required | Graphical acceleration required |
| Minimum 320 MB RAM required | Minimum 1GB RAM required |
| Minimum 1GHZ dual-core CPU required | Minimum 1GHZ dual-core CPU required |
| Can boot in legacy and UEFI modes | Can boot in legacy and UEFI modes |
| Minimum 20GB of hard disk space required | Minimum 20GB of hard disk space required |
Hardware requirements are often ignored or not paid much attention to as developers or users mostly have a high-end system that meets the minimum requirements or, in some cases, are much more powerful.
But based on the above table, we can conclude that Parrot OS is lightweight and requires lower hardware specification such as low RAM, no graphical acceleration, and low memory, which enables it to run efficiently run on low powered systems.
Look and Feel
The Parrot OS interface is built with Ubuntu-Matte-Desktop-Environment. The display is divided into two sections. The upper section consists of a panel that holds the applications, systems, and places menu, whereas the bottom pane consists of the workstation manager.
The OS parrot panel also provides additional information like CPU temperature and application usage graph. On the other hand, the Kali Linux interface follows the GNOME desktop interface, which provides the same functionality as Parrot OS but lacks that refined, slick and clean look.
The panels in Kali look much more complicated and cumbersome, and it is easy to get lost in this interface if you are not aware or have used this interface before.
Read Also: Web Application Penetration Testing Methodology
Hacking Tools
While both the operating systems have a similar set of tools, Parrot OS has some additional tools which are not available in Kali.
Few such tools are:
Wifiphisher:
It is a unique access point framework used for conducting Wi-Fi security testing. This tool provides the penetration tester with a Man in the Middle position, which allows from an external source them to perform targeted association attacks against wireless clients.
Wifiphisher can also be used to launch phishing attacks against the connected clients to gain unauthorised access to sensitive information or penetrate the system by infecting it with malware.
Anonsurf
Anonymising a system is the most important step for a hacker before launching an attack. Anonsurf is one such tool that allows anonymising the system efficiently using TOR Iptables.
TOR is a pre-installed tool in Parrot OS, whereas, in kali, it is not pre-installed. You have to import and download Anonsurf.
Variations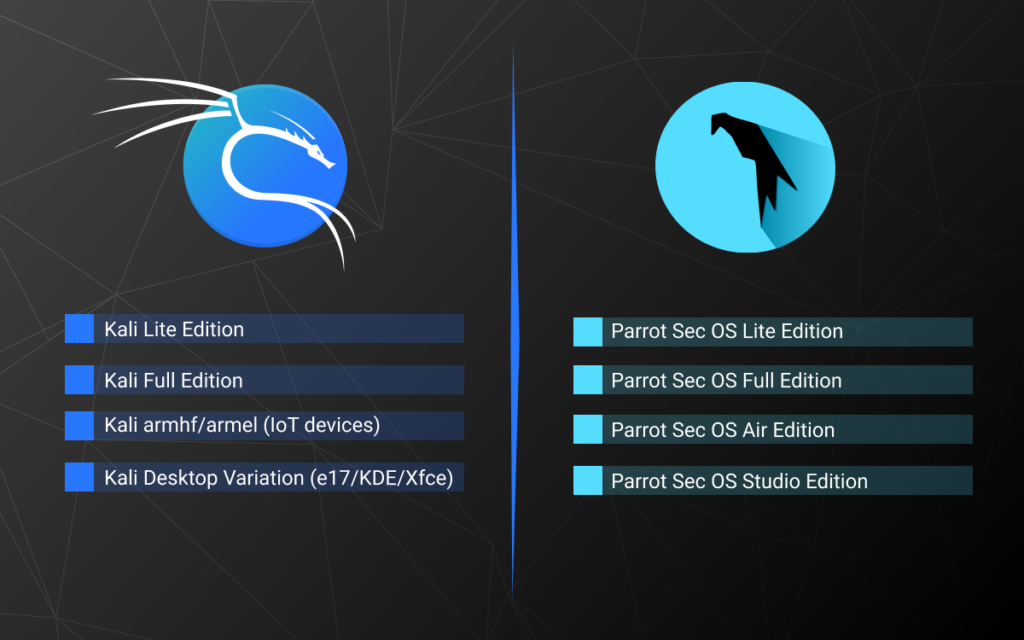 Both the systems have many variations, but comparatively, Parrot OS has more. The following are the variations:
Kali Linux:
Kali Lite Edition
Kali Full Edition
Kali armhf/armel (IoT devices)
Kali Desktop Variation (e17/KDE/Xfce)
Parrot OS
Parrot Sec OS Lite Edition
Parrot Sec OS Full Edition
Parrot Sec OS Air Edition
Parrot Sec OS Studio Edition
We can see that Parrot has some diverse features with a release concentration on wireless penetration testing (AIR) and one that is tuned for multimedia content creation(studio). Both have basic cloud support and IoT device support.
Performance
Since Kali has high-end hardware requirements, it can be a bit laggy and slow when running on a low-end system. The experience is not satisfactory when multiple programs are running in the background.
Comparatively, parrot is lightweight, has a slick interface and runs easily without any lags even on a low-end system.
Conclusion
Both operating systems have similar features except some basic differences. Using one over another is completely subjective and a matter of personal choice and requirements. The Parrot OS is lightweight, has additional tools, and a smooth interface, making it much preferable.
The other disadvantage of Kali Linux is that the default user for kali is the root that encourages an aggressive operating environment, making it much more difficult to deal with in case of a mistake.
Overall, Parrot OS is a much better choice if you know the basics of Linux.